District Social Welfare officer Bandipora released Interview notice in respect of the posts of District Hub for Empowerment of Women (DHEW). Mission Shakti Bandipora.
Whereas advertisement notice was issued by the office vide the above mentioned advertisement notice. Whereas 116 application forms were received by the office in response to the advertisement notice.
Whereas, short listing was required for the posts of Specialist in Financial Literacy, Accounts Assistant, DEO and MTs. The short listing was done as per the marks obtained in the basic requisite qualification and experience for the concerned posts.
Therefore, the candidates provisionally shortlisted as mentioned in the Annexure (A) are hereby called for interview, which is going to be held on 07-12-202 at Dc office Bandipora.
The candidates are advised:
1. To reach the venue on the scheduled date and time (9 AM)
2. Bring all original documents and 1D proof on the date of interview.
Note: The candidature/ellgibilty of all the candidates is subject to the validity/ genuineness of required docunents submitted by the applicants at the time of submission of their application.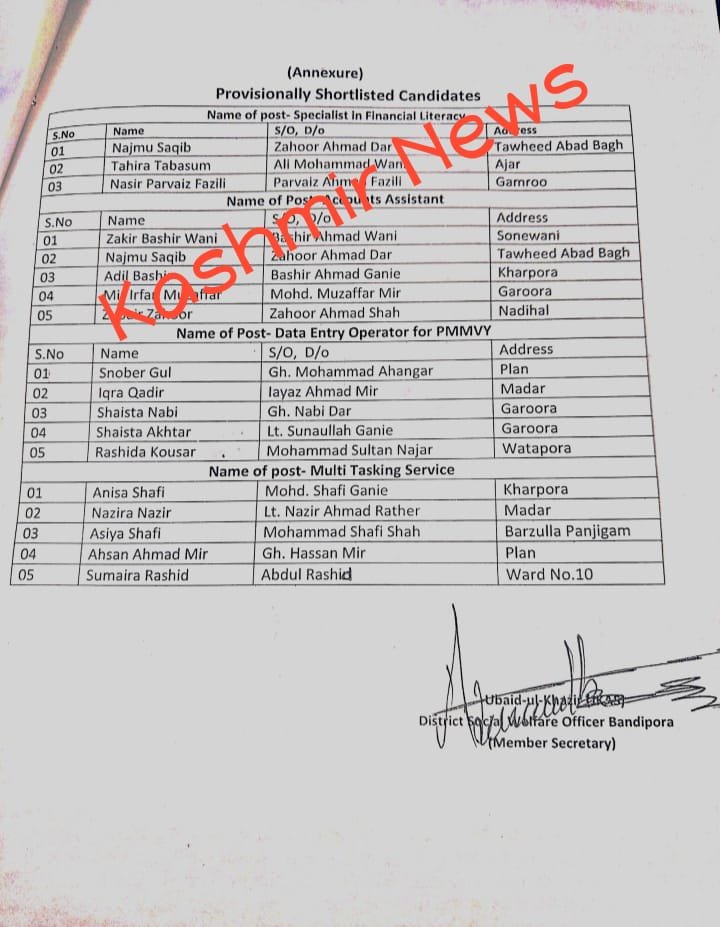 Petrol, Diesel Prices To Drop By Rs 14 Per Litre, Sanjiv Bhasin makes BIG prediction
JKSSB: Provisional Selection of upgraded/allotted seats/institutions for admission to Post Basic B.Sc Nursing Courses – 2022
J&K Govt Issues New Guidelines For Deputation of Employees To Ladakh UT, Teaching Staff To Be Shifted In April – Details Inside Link